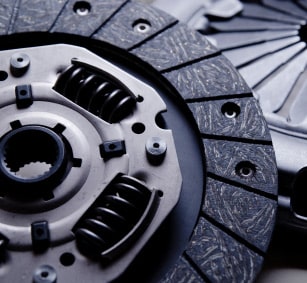 At Five Star Autocentre, we aim to provide you with the highest possible service for all of the main components of your car, including the clutch. We are pleased to say that our team, led by a master technician, have a considerable level of experience when it comes to supplying and fitting clutches. We are able to supply and fit clutches that are suitable for all makes and models, while we are delighted to say that all of our clutches are completely new.

We promise to never fit inferior components, nor do we use remanufactured components. This offers you peace of mind and a reliable life from your new clutch. All of the clutches that we fit come with a comprehensive labour and parts guarantee.
We offer a free clutch check
Given the importance of the clutch in your car, we are happy to provide you with free guidance and a diagnosis for any problem relating to your clutch. If you would like to discuss your options with us, please get in touch and we will be more than happy to offer advice and provide you with tips for looking after your car in the most effective manner. We are keen to look out for motorists in the Huddersfield community, and we believe following these tips will help to keep your clutch, and your car, in excellent condition.
You should always look to gradually release the handbrake when you lift the clutch and press your accelerator
If you are undertaking a hill start, do not slip the clutch for longer than is necessary
While driving, do not rest your foot on the pedal of the clutch
When stationary at traffic lights, do not keep your foot on your clutch or leave your car in gear
Ensure that your reservoir fluid is topped up
When it comes to ensuring your car remains in excellent condition, it is important to be wary of the symptoms that suggest your clutch is not operating effectively. These are some of the main symptoms of a burnt out clutch to look out for:
You struggle to engage gears
There is a crunching sound
When you move away from a stationary position there is a juddering motion
There is a notable burning smell
The RPM of the engine increases as you depress the pedal for the throttle but your vehicle doesn't increase in speed
If you notice any of these symptoms, we recommend you come and visit Five Star Autocentre as quickly as possible. Our highly experienced team will ensure you receive the best level of service and we will do our best to resolve the matter and have you back on the road as quickly as we can.
With so many different components involved with running your motor, it can be difficult to stay on top of your car, but we are here to help. We are clutch specialists in Huddersfield and we will ensure you receive the highest level of service at all times.