Easy online car diagnostics booking with Five Star Autocentre
Looking for car diagnostics in Huddersfield? We provide comprehensive vehicle diagnostics at Five Star Autocentre.
Given that there are so many problems that can go wrong with modern cars, it is important that you find a garage that is skilled in finding the issues that can go unseen before causing you a lot of problems. At Five Star Autocentre, we are confident that we provide the most comprehensive diagnostic service in Huddersfield, and if you are looking to ensure your car is in peak condition, get in touch and we will be more than happy to diagnose any issues you may have.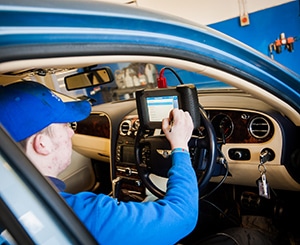 There are plenty of problems that can arise in looking after your car, and these are some of the most common issues:
Difficulty in starting
Your car occasionally stalls
A great deal of smoke is emitted from your exhaust
Your car consumes more fuel than is normal
Your car moves sluggishly when accelerating
Your engine overheats or misfires
Warning symbols are illuminated on your dashboard
If you notice any of these symptoms, arrange an appointment and we will be more than happy to check your car out. If your car is behaving strangely or not at its best, it will cost you money and it may even put your safety at risk. Our service provides you with the confidence and the peace of mind you need when driving, so for the most effective diagnostic service in Huddersfield, get in touch and we will arrange an appointment that is convenient for you.
We have invested in state of the art diagnostic equipment
We are delighted to say that we utilise the very latest in diagnostic equipment, so you can be confident that we will identify any problems your car may have, and we will have it up and running in no time. We have specialist diagnostic tools for a wide range of vehicles and no matter what make or model of car you drive, we are confident that we have the tools that will ensure your car receives the highest standard of service.
The modern car is a highly complex machine, and the electrical system is highly intricate. This is why you will be delighted to know that your car is in safe hands, looked after by highly skilled technicians. Our Master Technician undertook four years of training to earn this title, and all of our team members are fully skilled and competent in using the diagnostic equipment we utilise.
As many faults in modern cars relate to the vehicle's electrical system, we are able to focus on electrical defects, including issues that relate to:
ABS brakes
Battery systems
Ignition systems
Injection systems
Central locking
Air conditioning
Engine management
Safety systems
If your car is experiencing issues or initial problems, come and see us as quickly as possible. However, we recommend a regular check-up for your vehicle, and at Five Star Autocentre, we believe we provide a diagnostic service that provides quality, reliability and value for money. We are keen to ensure that Huddersfield motorists are the safest and most confident drivers in the country, so if you would like our assistance in ensuring your car remains in excellent condition, get in touch and we will be happy to help you