Servicing at Huddersfield's Five Star Autocentre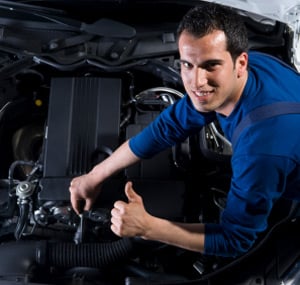 A refreshing alternative  Car service in Huddersfield by Five Star Autocentre.
Every week we service numerous car brands, from Peugeots to Porsches. Some customers are really surprised to find out we can even service the vehicle if it is new and less than 3 years old, without voiding the manufacturer's warranty. We are not saying we are better than the main dealers. In fact the main dealers provide a fantastic level of workmanship. However, as the owner and master technician of an independent garage where I feel we differ is we like to give you that personal one to one attention. Our overheads are a lot lower effectively allowing you to save money in the process. The quality of workmanship is no less inferior and we make sure our technicians and equipment is kept up to date and to the highest level of standard.
If we find anything additional that requires careful attention and replacement while we service your car, you can expect that we'll contact you immediately without any hard sell to get it fixed through. We'll provide you with exact information and let you decide if you'd like the problem fixed now or later. We will give you a fixed price quote for any additional costs for replacement and repairs if required outside of your service schedule. We will also keep all components for viewing by should you require them where necessary.
Upon completion of your car service, we'll stamp your service book to keep your warranty intact and let you have a car that is safe, well maintained, efficiently running, and free of damages.