After seeing the good weather back in the UK recently, the first thing you will be doing when you jump in your car is turning on the A/C system. But if you switch on your air conditioning and discover that it's only hot air that is coming out, you know your going to be in for a hot, sticky journey ahead.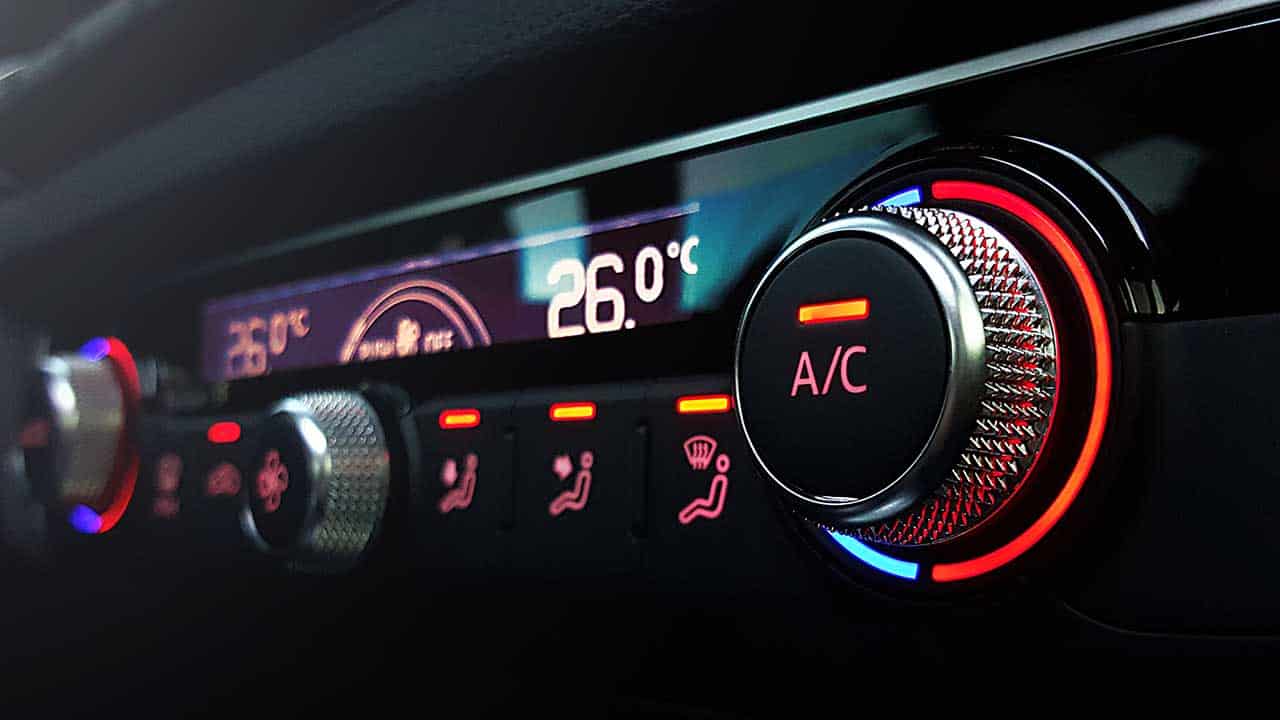 At Five Star Autocentre, we can help you get cool and comfortable whilst your on the road, which is why we've written this article that covers all you will need to know about your car's air con system.
The Air Con Recharge
Whilst your car's air conditioning system is a sealed system, a vehicle is a harsh environment for it to operate in.
Your car's A/C system uses rubber hoses to complement the fixed aluminium pipes. These components result in natural loss of refrigerant, which is often known as gas. This gas needs to be replaced over time. If your car doesn't have the right amount of refrigerant, your air conditioning system cannot remove the heat from the vehicle's cabin.
If your refrigerant is low and you don't realise it, the system will not operate. This, combined with months of not using your air conditioning through the winter months, can lead to component malfunction.
How a Good Air Con System Works
When your air conditioning system is working healthily, this is how it works: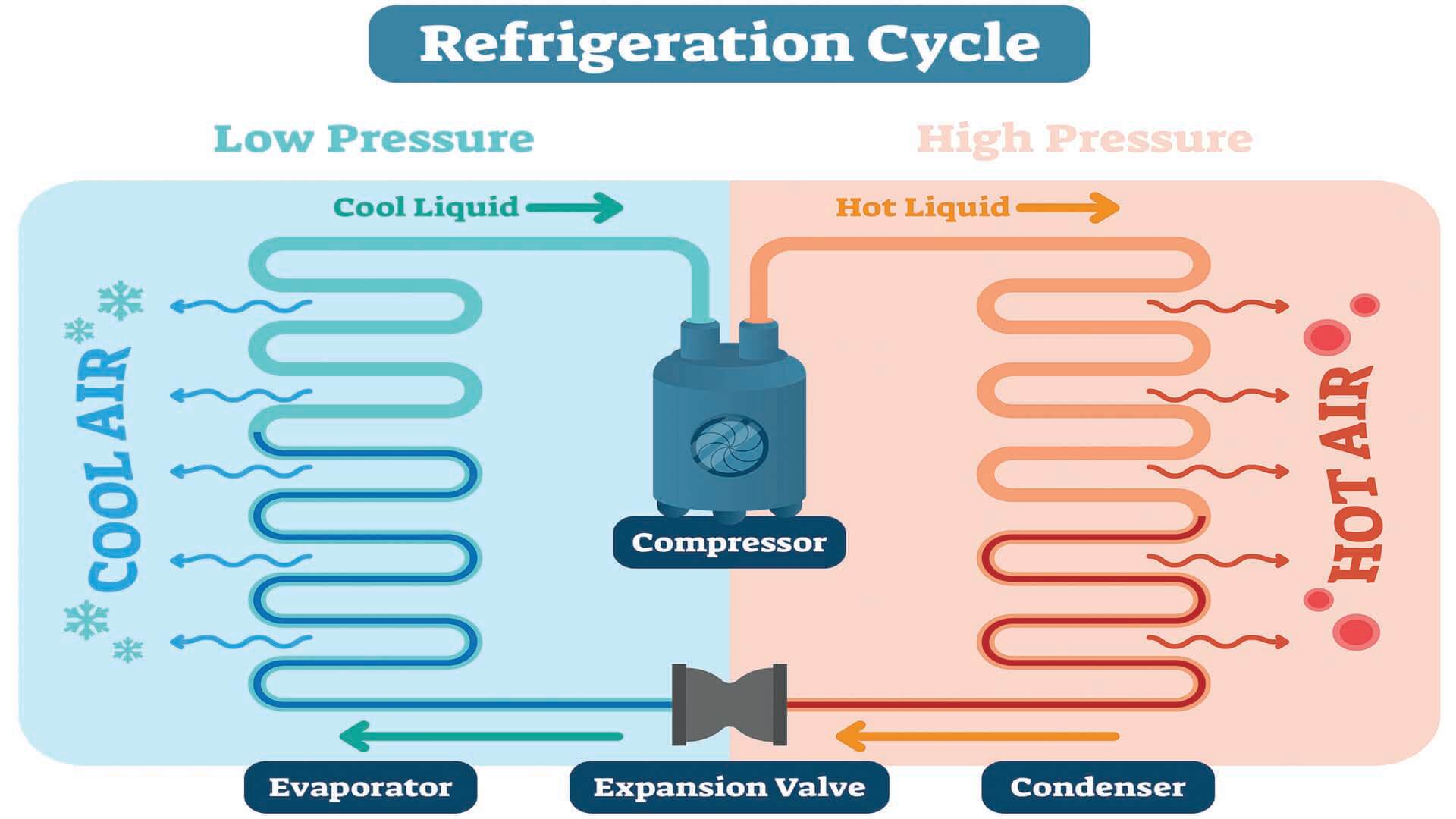 Refrigerant moves around thanks to the compressor.
It's a liquid to begin with but as it passes through the expansion valve, it boils. This turns it into gas. Cabin air will pass over the evaporator.
Refrigerant absorbs heat from your car during this process. You need refrigerant for this to happen.
Refrigerant is drawn into the compressor where the pressure and temperature of the gas rises.
The gas is now passed through the condenser, ambient air is blown over the condenser by your condenser fan.
Heat will be drawn out of the gas and into this ambient air.
Your air conditioning system has now moved the heat from the cabin to the outside of the vehicle, and you've got a nice and cool car to drive in!
MOT and Service – Is Air Con Check Included?
Air conditioning is not included with your MOT, and most manufacturers do not include it as part of their service schedule. This does mean that you're going to have to book an air conditioning service on its own.
At Five Star Autocentre, we offer an A/C system check which we advise should happen every 12 months. The air conditioning should also be serviced every 24 months to stay in good condition.
Why Air Conditioning Stops Working
The most common reason the air con stops working is due to the refrigerant. When the quantity is low and lower than it should be, the heat can't be removed and the cabin cooled down sufficiently.
As we've mentioned previously, the refrigerant can leak naturally. It can also happen through a fault with the system. But you don't have to worry about this situation; it's a simple on to correct. We can replace the refrigerant and make sure your air conditioning is working again in no time.
What Exactly is a Re Gas?
If your car is low on refrigerant, it requires a re gas. This is a simple process that we can do for you. Here are the steps we'll undertake to replace the A/C gas.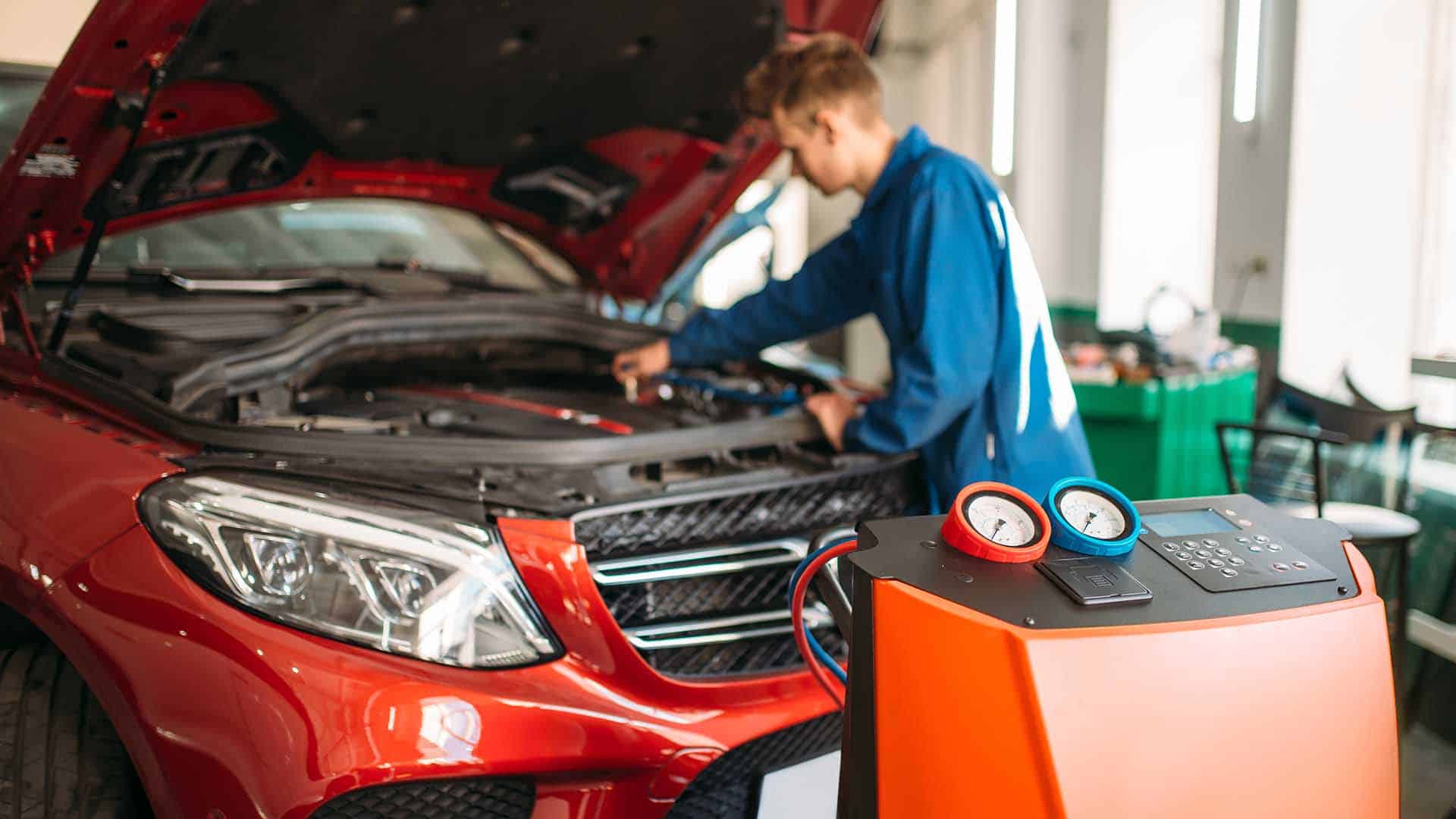 Carry out a performance test to see the amount of refrigerant and how it works.
Remove the refrigerant and weigh it. It will be compared to what your car needs.
Complete a vacuum leak check.
A pressure leak check is also completed to check for all faults.
Moisture is removed with a specialist vacuum pump.
Dye is added to show any leaks in the future.
We can add oil if your system requires it.
The correct quantity of refrigerant is weighed into the system.
A final performance check is made to make sure your air con is working again.
What is an Air Con Service?
Is there a difference between an air con service and a re gas? Absolutely. You've got to make sure that other parts of your system are working properly too. This regular maintenance is going to save you money. Plus, it'll keep your car cool and odour-free.
Here are a few of the common items carried out on an air con service:
Inspection of the A/C condenser fan.
The A/C condenser is cleaned out, removing debris for better heat exchange.
Inspection of the compressor drive belt. Report created.
Under bonnet A/C pipes inspected for security.
The refrigerant receiver dryer or accumulator replaced.
Inspection of the pollen filter to keep out pollutants.
A/C de bug treatment to decontaminate your system and kill bacteria that builds up in your cabin vents.
It's recommended to have an air con service every 24 months to keep everything in order. This is good maintenance that pays off and minimises the cost of expensive system faults caused by lack of inspection.
Making Sure Your A/C System Works Well
One of the reasons why your A/C system stops working is because you don't use it enough. You may think that air con is only for summer when it's hot outside. But this simply isn't true. You actually want to be using it all year round to keep the compressor working.
There are also benefits to using your air con during the winter. This includes clearing misty windows that impair your vision, as well as dehumidifying the cabin.
So, we've told you a lot about air conditioning today. But what should you do if you discover yours isn't working?
The best thing that you can do is call us at Five Star Autocentre. We have a lot of skills and experience to find out what the problem is and get it fixed in no time. You don't have to live with a hot and sweaty car!
Call Five star Autocentre on (01484) 54 54 22