How Often Should My Wheels Be Aligned?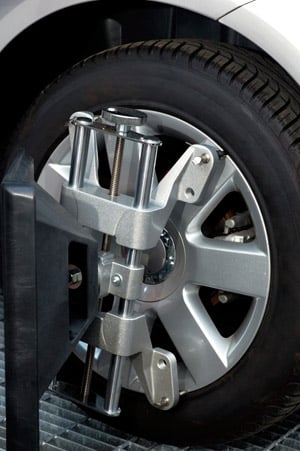 The wheel alignment process will ensure that the angles of your wheels are relative to the body of your car and to the other wheels. There is a need for this to be carried out on specialist equipment, with the process being carried our when your car is placed on to an alignment rack.

Sensors are placed on to your wheels and then a specialist device measures the angles of the wheels. Wear and tear on your wheels, caused by the condition of roads, accidents and bumps all cause your wheels to move out of alignment. Some of the symptoms you should be on the lookout for with respect to wheel alignment include:
When your car is driving straight your steering wheel is of-centre
When you are driving straight but your car pulls to one side
When your car feels unstable and wandering
When your car doesn't hold the road well
When your tyres wear out an uneven rate
When your tyres make a screeching sound when you turn
There is no average or specific requirement to have your wheels aligned but you'll find that every two to three years is the minimum. If you have new tyres installed or your car has been in an accident, it is also recommended to have your wheels aligned.

When you align your tyres, you will find that your tyres last longer and that the steering and suspension components of your vehicles will be in better condition. You should find that your car is more stable and able to hold the road better, which is likely to provide you with more confidence when driving.
You need specialist help when aligning your wheels
Given the use of specialist equipment when carrying out wheel alignment, this is not something that you can carry out yourself at home. This is why you should call on the services of a professional mechanic and if you are looking for the best professionals in Huddersfield, you'll find that Five Star Autocentre is the local garage to call on.

The cost of the service may be impacted upon if the adjustments are affected by rust but on the whole, this shouldn't be an expensive process. It also shouldn't be a lengthy process with specialists being able to align your wheels in around 40 minutes to an hour.

If you are looking to have your wheels aligned in the most effective manner, make sure that you choose Five Star Autocentre in Huddersfield. This is a garage with considerable experience and expertise in this line of work, and they take great pride in the fact that they have helped so many motorists improve the alignment of their wheels.

Unaligned wheels can have a hugely negative impact on the driving experience, even causing some cars to lose control, so for your own peace of mind and safety, it is always best to call on the best local professionals when you want to have your wheels aligned.

Article written by Five Star Autocentre
Copyright Protected